OLLI, Spring 2019
La clase se reune los miércoles y los lunes en
Southern Oregon University's Campbell Center, Aula C,
desde las 3:30 hasta las 5:30 de la tarde
Empieza el 8 de mayo y la última clase es el 5 de junio.
Notas de la clase del 23 mayo.
Vocabulario.
toca el trombón - she plays the trombone
bebe - she drinks; also toma (she takes or drinks)
colegio particular - private school, not college
escuela - school, but not at a university: Facultad de Derecho - law school
manejar - to drive. (also conducir, en España)
está casada - she is married
está cansada - she is tired
alguien - someone, somebody
ganar - to earn (money), to win (a prize)
pasar tiempo - to spend time
gastar dinero - to spend money
¿Qué hacen? - what do they (or Uds.) do?
llegar - arrive, to get to
Inventamos un cuentito nuevo: ¿Quién cuida a los hijos?
Una mujer inteligente, bonita y musical trabaja en Los Angeles, California. Alicia, una persona muy amable, toca el trombón y es profesora de música en un colegio particular cerca de UCLA. Le gusta mucho su trabajo pero hay un problema. Su casa está muy lejos del colegio. Alicia tiene que manejar dos horas en las carreteras y autopistas para llegar al trabajo, y cuando regresa en la tarde, tiene que manejar otras dos horas.
Alicia está casada con Julio, que trabaja también en Los Angeles con una compañia del desarollo de software lejos del colegio de su esposa. Julio es mayor que Alicia - él tiene 47 años y ella tiene cuatro años menos. Él trabaja todos los días, pero ella trabaja solamente los lunes, los miércoles, y los viernes. Los dos pasan mucho tiempo fuera de la casa. No les gusta la situación pero sí, les gusta vivir en las montañas. Y les gustan los buenos salarios que ganan (they earn.)
Ellos tienen dos hijos. El hijo mayor tiene catorce años y su hermana menor tiene cinco. La familia necesita a alguien que los cuide y que ayude en la casa. Por fin deciden traer (to bring) a la madre de Julio desde Panamá para vivir en la casa y cuidar a los niños. Ella es muy simpática y los niños la adoran. Todos están contentos.
Patricia va a California, páginas 4, 5, parte de 6.
"En esta imagen, tomada el 18 de abril de 2017, el líder indígena de la comunidad maya Q'eqchi Rodrigo Tot posa para una fotografía durante una entrevista en la Ciudad de Guatemala. Tot, un tímido agricultor y activista de 60 años que entabló una titánica lucha contra una gigante minera y las autoridades de su país para recuperar las tierras de su comunidad, fue galardonado con el prestigioso Premio Ambiental Goldman 2017. La distinción llega después de que dos ganadores latinoamericanos anteriores fueran asesinados en el último año. (AP Foto/Moisés Castillo) "
Para más información, haz clic aquí.
Mujeres indígenas de Guatemala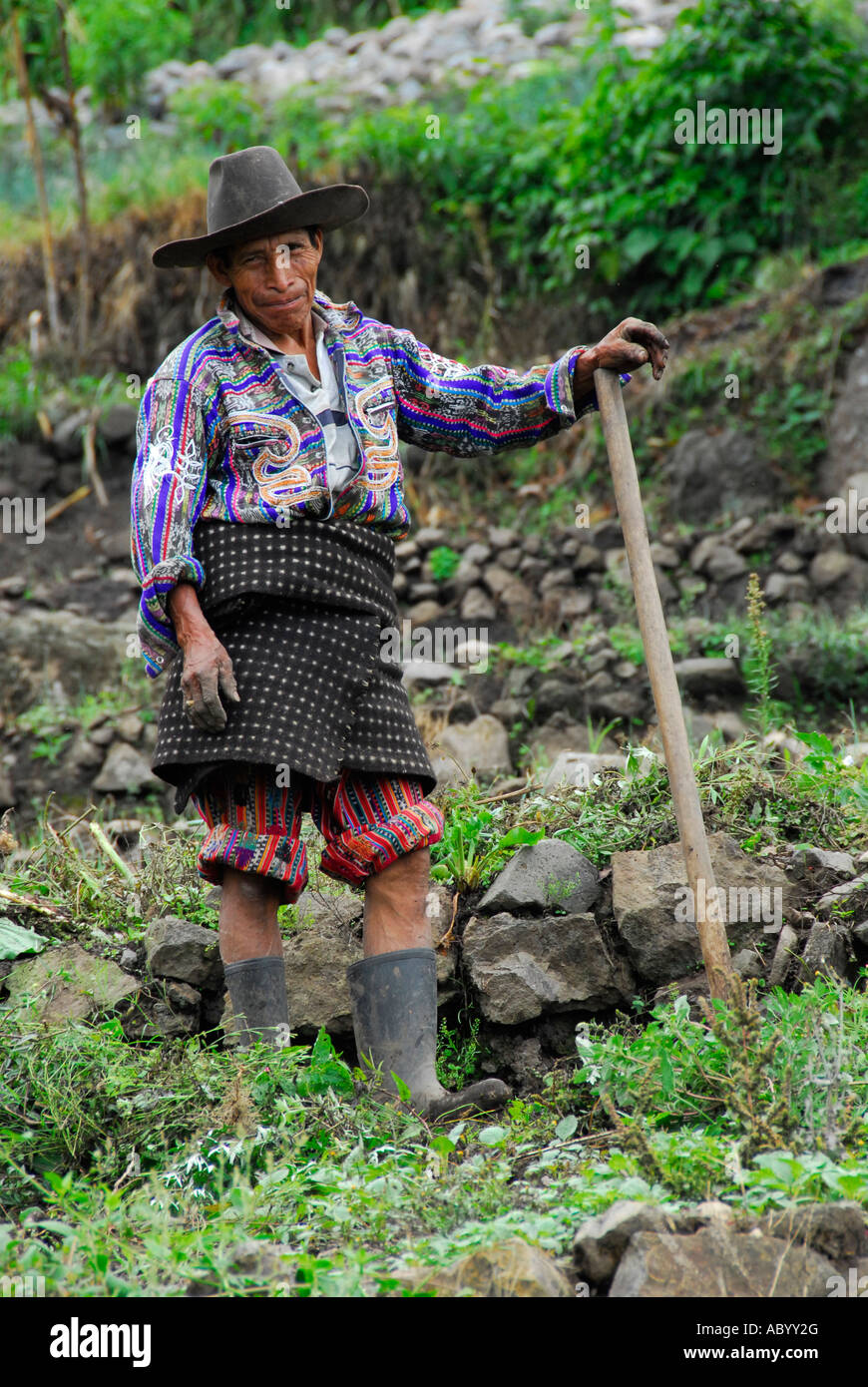 Hombre indígena trabajando cerca del Lago Atitlán
Clase del lunes, el 18 de mayo
Vocabulario
To be or To be -- ser o estar:
"How you feel and where you are, always use the verb estar.
It's so easy, as you see, also use it with ___ing."
(well, almost always. But it's good rule and will serve you well.)
más o menos - more or less. Sometimes used to indicate you are feeling ok, so-so.
Siete menos cuatro son tres. 7-4=3
Su hijo mayor tiene 37 años.
Ella tiene hija única. ¿Eres tú hijo único? (only child)
Varias personas de la clase tienen nietos (grandchildren)
Hace fresco. - It's cool.
Hace viento. - It's windy.
Llueve mucho. - It rains a lot. Está lloviendo ahora. - It's raining now.
pasar tiempo - to spend time. A ella no le gusta pasar tiempo en la cocina.
A Claudia le gustan las pinturas.. - To Claudia the paintings are pleasing. or Claudia likes the paintings.
For a clear, detailed grammatical explanation of the use of gustar, you can visit Study Spanish.
viene - s/he/usted comes. Ella viene a clase a pie, él viene en bus, muchos vienen en carro. Nadie viene en lancha ni en tren. Yo vengo en bicicleta cuando no llueve (when it's not raining.)
Leimos el cuento de la clase a continuación,
Una turista visita Arcos de la Frontera.
También seguimos leyendo la novela
Patricia va a California,
páginas 2 a 3.